Peter and Emily are our AT3 guinea pigs! As in, they joined our two year training programme as our first ever American Apprentices to work alongside Josh (one of our UK Apprentices) at Christ Church Liverpool.
Having met at Moody Bible Institute in Chicago, Peter and Emily made the move to the UK as a newly married couple. Their fellow Apprentice and AT3 Blogger, Katie Moore (based at Worthing Tabernacle) spent some time interviewing them to find out what that move was like and where they are headed now that they have completed the programme: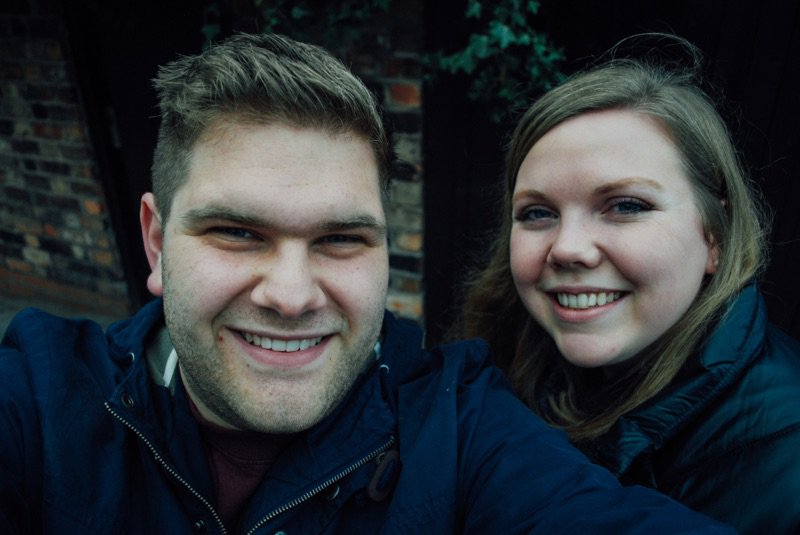 Peter, how did you hear about AT3 and why did you choose to sign up for the program?
I originally heard about AT3 in a meeting for all pastoral studies majors at Moody Bible Institute. At first, AT3 seemed too good to be true, offering both seminary level education and real full-time ministry training in a church. On top of what seemed to be a very well synthesized model between theological education and ministry training was the low cost compared to many American seminaries where I would most likely lack the real-life ministry training.
Peter, what is your engagement with AT3?
I have just finished my 2 year apprenticeship with an accredited Masters with AT3. I have finished the apprenticeship at Christ Church Liverpool and finished all courses towards my Masters in Theology, with just a dissertation to complete the degree.
In which church(es) did you serve in and where are you based?
Peter: During our time with AT3, we primarily served at Christ Church Liverpool in the city centre of Liverpool. Alongside full work weeks at Christ Church Liverpool, I also helped with the preaching every month at Beechwood Chapel (a Christ Church Liverpool Revitalization) on the Wirral, Liverpool.
Peter and Emily, what were your main responsibilities during your apprenticeship?
Emily: I helped with the discipleship of university students as well as leading small group Bible studies, and 1-to-1 discipleship relationships with several individuals. I was also involved with a children's ministry engaging 2-4 year olds, helping to plan evangelistic events and I participated in a mission trip to the Czech Republic with other CCL church members.
Peter: During my apprenticeship there was very little I was not involved with. I think this is a particular strength of the program; exposing apprentices to the full range of the pastoral duty. Specifically, I focused on student/university ministry, leading a small group ministry, preaching once a month at Beechwood and at Christ Church Liverpool. I was heavily involved with administration & Design/video/photo. Participating on the staff team at Christ Church Liverpool was invaluable, and with my background in graphic design and photo/video I was able to help with branding, video and design. On Sunday Mornings, I served by leading the entire "team" of volunteers for the service once a month, Children's ministry leader, Head Steward for CCL, participated in music ministry, led services, ran audio/video tech, etc.
Peter and Emily, What are some of your highlights from the apprenticeship that you have experienced?
Emily:
Being fully integrated into a church family as a young married couple.
Being trusted to handle the tasks set before us and being supported to carry out those tasks when we had questions or needed help
Networking with other church leaders in the North West of England, being introduced to the FIEC and City to City UK/Europe– these connections gave us confidence to look for other places in the UK we could serve with churches who have similar goals
Learning to introduce new ideas or personal convictions about ecclesiology or discipleship into a different cultural context, learning to compromise, having mentors with Christian experiences different to ours
Peter:
Preaching at Beechwood Chapel: It is difficult to try and pick out three highlights from my time with AT3, but for sure one of them was the opportunity to spend a lot of time at Beechwood Chapel. Beechwood Chapel is a small church on an estate that has gone through a lot of hardship in the past few years. The people there are some of the most receptive and loving saints you will meet. I count myself very blessed to have been given the opportunity to grow in my preaching at Beechwood Chapel.
Leading Central Connect (6 city centre small groups): Creating a bible study from scratch (rather than a book) and leading that bible study in a compelling way is no easy task. It is even more difficult to train 16 other people to be able to do this. I feel that this was the place I was stretched the most on a weekly basis. Creating Curriculum from my own study + creating training every week for leaders + leading the night + personally leading my own group made for a full 2 days. But, this is also where I feel that I have learned the most.
1-to-1 Bible Studies: My church setting in the U.S. did not stress 1-to-1 Bible studies and prayer groups like they do at CCL. Personal discipleship at this level (which is expected by many students) made my role as student ministry leader a joy. Some of the largest encouragements in ministry during my time with AT3 were times spent with a student in this capacity. While 1-to-1 ministry is not a "solution" or the magic missing ingredient to ministry, I found it a huge encouragement to both myself and the students.
Emily, Where have you been able to see fruit in your evangelistic efforts?
Working for a coffee shop in the city was very important for me. I was explaining my reason for living in the UK on a daily basis, and had so many opportunities to share why it was meaningful to my life to trust Jesus. Although my manager and colleagues didn't come to faith, I was able to plant those seeds and be an example of Christ to them.
Peter, where have you seen God at work through your apprenticeship?
I have seen God at work most explicitly and clearly whenever Emily or I felt stressed, worried, or anxious. Living in a new country away from your family, with the pressure of ministry and an upcoming paper, alongside any financial pressure from being supported means there is a lot of time to pray and to rely on Christ. Our 2nd year support raising stands as a time when worry slowly flooded our daily life and we felt stretched, but was precisely at this moment when we were most valuable for ministry as we were able to be vulnerable with 20-year old university students (who aren't particularly good at being open or vulnerable). When we felt most stretched, challenged, and overwhelmed we found ourselves most fruitful and most dependent upon Christ.
This is a strength of AT3 – yes, apprentices will have a fun and terrific time in a new country serving the Lord, but apprentices should be aware that it will be difficult to take it all on at once. And from our experience, this period of stretching is for our good, for that is when we cling to Christ more firmly and our ministry instantly becomes more authentically palpable and strong in Christ Jesus.
Emily, How do you envision your future after the apprenticeship?
Thankfully, participating in AT3 helped us to dream bigger about our future than I would have before. The trust & opportunities given to us helped to give us confidence that we could humbly step into leadership roles at local churches at only 24 and 25 years old. This is kind of rare in the States, where we don't see many of our peers from Moody getting the same opportunities as us. We've really fallen in love with England, and we're moving to the southeast to help another FIEC church establish their vision to reignite church planting in rural East Anglia.
The Masons have been such a blessing to all of us on the AT3 team as well as those at Christ Church Liverpool. Their love for the Lord and his people is so evident in everything they do. We ask you to join us in continued prayer as the Masons seek to follow The Lord's call on their life in the years to come, and as they enter their new roles in their new church.